Welcome to Precision Revolution Manufacturing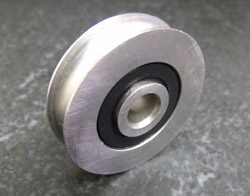 Precision Revolution is a manufacturer in the United States of America, located in the midst of one of the strongest manufacturing areas in the country, Milwaukee, Wisconsin.
We have been providing our customers with solutions to the challenges they face in the area of motion related applications.
We manufacture bearings, rollers, wheels, assemblies and other products aligned with motion related applications.
North, South and Central America is our geographical market area.
Our Company was founded not unlike many US companies, out of a necessity to find a solution to a problem. We started by asking our friends and associates what they look for as the key components to a strong customer/supplier relationship. We then took that feedback to potential customers and asked them questions about the challenges facing their growth and prosperity. We found a place to start by addressing those challenges and offering solutions that involved our expertise.
We only ask for an honest dialogue to learn about any problems and challenges that you may have in your own businesses relating to bearings, rollers, wheels and/or any type of product or service that may pose a challenge to your supply line. We have the knowledge and expertise to dig out the answers and provide the solutions for both short and long term.
If you can allow us an introduction, we will give you a strong return on the time you allowed us, we promise that.
---
For more information on Bearings or any of our products, please call us at
262-490-6490
or
send us an email
using our online form.
---
Precision & Mounted Bearing Products - Ready to Ship!
Reduce your costs & reduce your stress with a preferred stock & release program with Precision Revolution Mfg.
Fast shipping from our Midwest location, West Suburban Milwaukee, Wisconsin.